[ROM][4.2.2] MIUI V5 4.1.24
MIUI V5 for Flare-S
Flashable via TWRP/CWMR
Almost stock MIUI (minimal, unnoticeable tweaks done, removed few apps that won't work i.e. Compass)
Ported from G'Five A800 (it is updated weekly so I'll try to provide delta updates as well)
Tested in v5 and v7 (not sure if it would work with v8 and v9, you can test)
Google Apps not included (but can be downloaded here)
Screenshots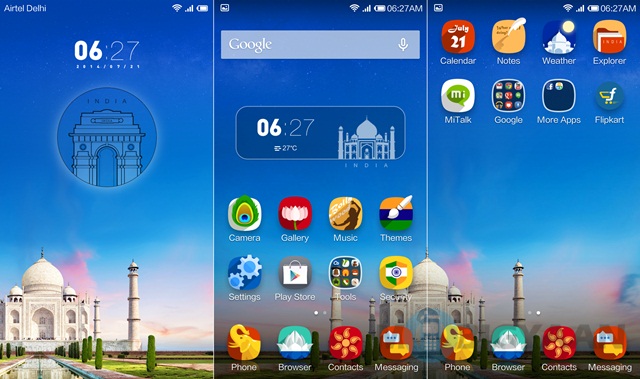 HOW TO INSTALL
Download flashable zip file: http://sh.st/RvCtA
Flash via TWRP/CWMR
Do factory wipe (cache and data wipe)
Incremental Update(s)
NOTE: Incremental updates are being installed via TWRP/CWMR as well
MIUI Themes
You can download themes using MIUI Theme (Manager) app. You can also download themes manually from the themes collection thread @ miui.com
To install and use manually downloaded themes:
Save the downloaded theme to your sdcard
Open Theme app
Press "menu" (cap. button)
Select "Import from SD"
Select the theme to be imported
Wait for the import to finish
Tap the newly imported theme
Tap Apply
IF YOU NEED GOOGLE APPS (i.e. PlayStore)
Download GApps 4.2.2 Minimal.zip: http://sh.st/RvC7E
Flash the downloaded file via CWM/TWRP
Q and ARooted ba ito?
MIUI is rooted, but disabled by default. To enable ROOT, find the Security icon from your home screen and launch it. Tap "Permissions", and enable "ROOT Permission"
Swapped ba yong Phone and External storage?
Hindi. To swap storage, go to "Settings", and then find storage and tap/open it
Tap "change default main memory", then turn if ON.
Your Flare-S will restart after you switched it.
IMPORTANT
when you mount the storage via USB, make sure you unmount it properly (by turning it OFF from Notification bar), otherwise it will not remount and you would need to restart your phone.
IT DOESN'T happen all the time, but you may encounter it
CREDITS
MIUI devs
hasz@miui.com (for his MIUI port for G'Five A800)
Lens_Flare@miui (for his miui porting guide)
xda-devs
Flare-S users
Update Log
26.Jan - Added incremental update installer from 4.1.17 to 4.1.24
[ROM][4.2.2] MIUI V5 4.1.24
Reviewed by
Jeffrey Cayao
on
March 05, 2016
Rating: